SAUTER launches ecos504-IoT: an innovative and smart solution for home automation and building automation
With the development of the ecos504-IoT, which uses the Internet of Things (IoT), the SAUTER Group is developing and offering increasingly intelligent, communicative and user-friendly solutions. In this way, SAUTER is achieving the necessary milestones to play a decisive role in the future of building automation, "Smart Home" and "Smart Building".
SAUTER ecos504-IoT is a new step in building automation: it is now possible to use information via the MQTT protocol directly from public clouds and thus instantly integrate it into the building management and control strategy.
The ecos504-IoT is a programmable BACnet server with an integrated BACnet/MQTT gateway.
It provides and receives BACnet information from clouds via the MQTT protocol. As such, it acts as a gateway between a cloud and technical building automation networks.
An order given from a cloud application can control a BACnet device in the building automation network via the ecos504-IoT. This is thus called a "BACnet Edge Controller".
The ecos504-IoT solution is based on common developed infrastructures (Internet, access point, etc.), public clouds such as Microsoft Azure, Amazon AWS, Google Cloud and established technologies.
Application examples of the ecos504-IoT
Application via speech recognition systems such as Google Home, Amazon Alexa for managing lighting, temperature, ventilation, etc.
Smartphone application for remote control and monitoring of home automation and room automation
Integration of intelligent sensors into the local building automation network.
Fonctionnement de l'ecos504-Iot avec Amazon Alexa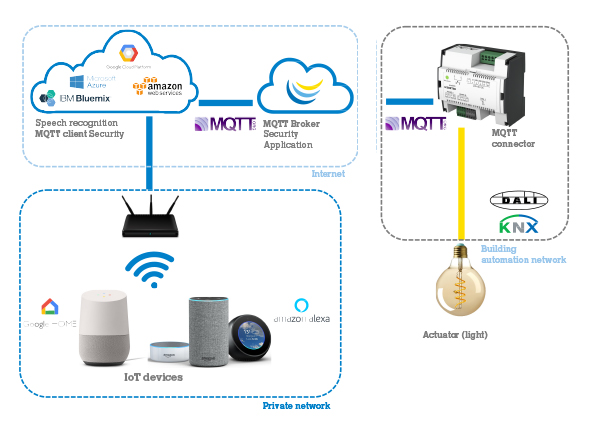 Characteristics of the ecos504-IoT
Part of the SAUTER EY-modulo 5 system family
Freely programmable with SAUTER CASE Suite
BACnet/IP Building Controller, B-BC profile
2 integrated RS-485/bus SLC interfaces for room boxes, I/O modules, EnOcean radio interface
Integrated Ethernet 2-port switch for daisy chain wiring
Power supply: 24 V AC/DC
DIN rail housing: 105 × 90 × 58 mm (6 horizontal pitches)
MQTT client (MQTT editor, MQTT subscriber)
MQTT V3.1.1 protocol encrypted via TLS 1.2
MQTT with authentication by entering a user name and password
MQTT broker (server) switchable as an option
About SAUTER
As the leading provider of solutions for building automation technology in Green Buildings, SAUTER ensures good climate conditions and a sense of well-being in sustainable environments. SAUTER is a specialist in developing, producing and marketing products and systems for energy-efficient total solutions, and offers a comprehensive range of services to ensure the energy-optimised operation of buildings. Our products, solutions and services enable high energy efficiency throughout the entire life-cycle of a building – from planning and construction through to operation – in office and administrative buildings, research and educational facilities, hospitals, industrial buildings and laboratories, airports, leisure facilities, hotels and data centres. With over 100 years' experience and a track record of technological expertise, SAUTER is a proven system integrator that stands for continuous innovation and Swiss quality. SAUTER provides users and operators with an overview of energy flows and consumption, and of the development of the costs involved.
The SAUTER Group
An international corporation with its headquarters in Basel, Switzerland
Founded in 1910, it can rely on more than 100 years of tradition and experience
With more than 2,300 employees, it is present and active globally
Complete building management solutions from a single source Focuses on maximum energy efficiency and sustainability
Safeguards investments and maintains operational reliability throughout the life-cycle of a building
Technology leader in the building automation and system integration sector
Member of eu.bac, BACnet Interest Group (BIG-EU), BACnet International, EnOcean Alliance
Impressive references at www.sauter-controls.com