Combining high performance with IoT architecture: modulo 6.
SAUTER modulo 6 comprises compact, powerful hardware, intuitive cloud-based software, a wide range of integration options and strong data security, thus enabling future-oriented systems – from smart heating, ventilation and air-conditioning control to networked building clusters.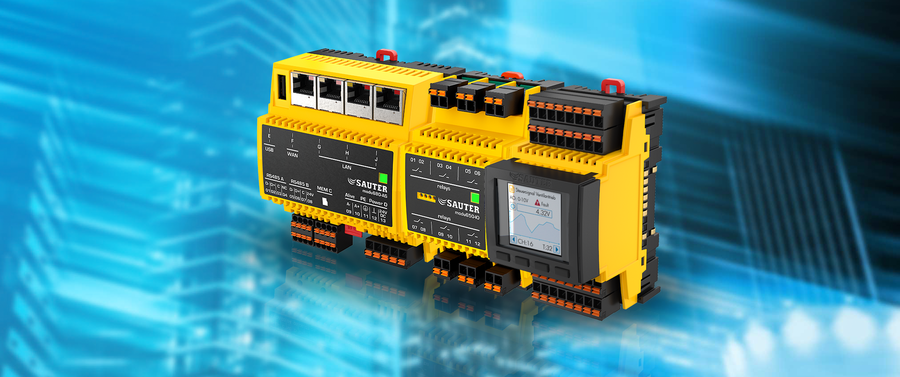 New performance standards
SAUTER modulo 6 provides thus far unequalled performance in terms of the number of data points per automation station, memory space and processing speed – all of this while taking up minimum space in the cabinet. Its modular structure and the flexibility of the modulo 6 modules provides customised performance at optimised overall costs – from heating and climate control to networked, globally distributed building clusters.
SAUTER modulo 6 is based on BACnet/IP and integrates all of the usual field bus protocols such as Modbus, M-Bus, KNX, BACnet MS/TP etc. for the control of heating, ventilation, climate, lighting and energy, while combining all systems into one stable, secure overall system.
No barriers
The traditional separation of the systems is being replaced by the new world of the "Internet of Things" (IoT) and the cloud. Thus, SAUTER modulo 6 connects with the cloud and IoTs just as naturally and securely as with the existing systems. Via MQTT data can be stored automatically in the cloud as required, or it can be integrated into the local system from the cloud. Cloud Services are available for the controlling, the operation and the engineering.
The cloud provides new opportunities for optimising the operation of buildings. The analysis of data such as the level of usage of devices, actuators and valves provides predictive information on the expected serviceable life. Thus the maintenance can be planned predictively with the smallest possible effect on the daily usage.
Focus on cyber security
modulo 6 connects via Bluetooth to a smartphone or tablet. An intuitively operated app enables access to measured values, control variables and system parameters. As an alternative to smartphone operation, modulo 6 also has a local operating unit (LOI) with a high-resolution graphical colour display. The LOI is compatible with all the available I/O modules and offers priority operation independently of the automation station as per EN ISO 16484-2, while also displaying measured values and output signals both numerically and graphically in real time.
Focus on cyber security
As buildings are being connected to the "Internet of Things" and the cloud, the security of systems and networks is becoming a major challenge. SAUTER modulo 6 offers integrated network separation of Internet and building technology. The encryption, authentication and access security are now guaranteed by state-of-the-art technologies. In the near future the new "BACnet SC" (BACnet Secure Connect) security standard will be available. The modulo 6 security concept is based on the new international standard for "Cyber Security for Industrial Automation", IEC 62443, and describes the achieved security level for networks and system components. We also provide recommendations for additional measures with which the security level can be increased.
Ready for tomorrow and the day after
With life cycles of several decades, even the most up-to-date technology in a building gets old. SAUTER modulo 6 enables gentle refurbishment of existing systems. Old systems can be updated in budget-friendly stages without any interruptions. Additionally, already developed control and regulation programs from the SAUTER modulo 5 system generation can be reused. These can not only run on modulo 6 but can complete their existing tasks in parallel and separately from new programs. Thus, SAUTER modulo 6 is backwards compatible as regards programs and networks, integrates its own and third-party installations and also offers the link to the era of the cloud and IoT – ready for the future!
As a leading provider of solutions for building automation technology in Green Buildings, SAUTER provides pleasant conditions and a sense of well-being in sustainable environments. SAUTER is a specialist in developing, producing and marketing products and systems for energy-efficient total solutions, and offers a comprehensive range of services to ensure the energy-optimised operation of buildings. Our products, solutions and services enable high energy efficiency throughout the entire life-cycle of a building, from planning and construction through to operation, in office and administrative buildings, research and educational facilities, hospitals, industrial buildings and laboratories, airports, leisure facilities, hotels and data centres. With over 100 years' experience and a track record of technological expertise, SAUTER is a proven system integrator that stands for continuous innovation and Swiss quality. SAUTER provides users and operators with an overview of energy flows and consumption, and of the development of the costs involved.
The SAUTER Group
An international corporation with its headquarters in Basel, Switzerland
Founded in 1910, it can rely on more than 100 years of tradition and experience
With more than 2,300 employees, it is present and active globally
Complete building management solutions from a single source Focusing on maximum energy efficiency and sustainability
Safeguarding investments and operational reliability throughout the life-cycle of a building
Technology leader in the building automation and system integration sector
Member of eu.bac, BACnet Interest Group (BIG-EU), BACnet International, EnOcean Alliance
Références de renom sur www.sauter-controls.com